Locals brace for Ukraine troops to take back Vuhlehirsk
Comments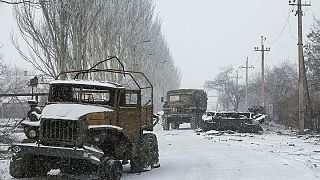 Ten kilometers from Debaltseve lies the small town of Vuhlehirsk captured by rebels earlier this month. Local residents now believe the Ukrainian army may try to take it back, although there is no evidence of an offensive.
"We don't feel the ceasefire," said Vuhlehirsk resident Viktor. "They (Ukrainian army) started an offensive on Vuhlehirsk yesterday with 36 tanks and 1,500 people across the fields… What kind of ceasefire is it if they are on the offensive against us?"
A Reuters reporter near the front line said at least six tanks as well as armoured personnel carriers could be seen in nearby woods.
"All shops are closed and everything is destroyed," explained Vuhlehirsk resident Elena. "And the roof of my parents' house was swept off. So we live as we can and can't wait when it all will be over. We cannot bear these blasts and shots anymore, we are so tired."
Reuters reported pro-Russian rebels pounded encircled Ukrainian government forces on Monday. Kyiv said it would not pull back heavy guns while the truce was being violated.