Haiti declares three days of mourning after carnival tragedy
Comments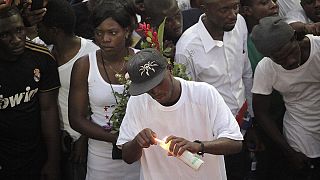 Thousands of mourners including Haiti's President Michel Martelly have walked through the centre of Port-au-Prince in memory of the victims of an accident during the capital's annual carnival parade.
Sixteen people died and at least 78 more were injured after a power line fell onto a carnival float.
The president and his government have declared three days of mourning and a state funeral will be held for the victims on Saturday. The last day of the carnival has been cancelled.
The accident happened when a high voltage overhead cable struck a singer performing on one of the floats carrying him and his band. Several people were electrocuted, but most of the victims were trampled to death in the ensuing panic.
The singer remains in hospital in a stable but serious condition.
At least 18 killed in mass electrocution in Haiti Carnival accident, AP</a>/<a href="https://twitter.com/AJENews">AJENews reports http://t.co/0N7WK321DPpic.twitter.com/ac6MYj2cEf

— BuzzFeed News (@BuzzFeedNews) February 17, 2015