Venice carnival to end with stylish and spectacular paegent
Comments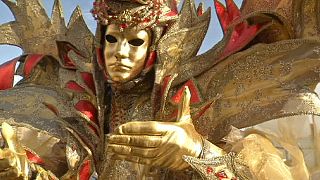 Nearly three weeks of fun, frolicking and festivities will come to and end tonight as Venice says arrivederci to another year's Carnival.
From Pompadour to Casanova, the city's been awash with historical characters in an array of colourful costumes.
And anyone who thinks dressing up to parade among thousands of people is overrated, should think twice.
"It's magic. You can't imagine what it's like to be in disguise. We're no longer ourselves it's like travelling in time," said one delighted French tourist
It is certainly a slightly surreal re-invention of a 900 year-old tradition in the city. And its continued success will ensure it will remain a firm feature for party-goers and lovers from all around the world.