[In pictures] Brazil's world-famous Rio carnival
Comments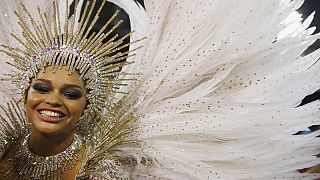 Tens of thousands of people gathered in Rio's Sambadrome on Monday to watch and join in the festivities of the world's most famous carnival. The theme of the party was racial pride and the fight against racism in Brazil.
"I've been taking part in the parade since 2009 and every time the siren sounds at the start of the march I cry because of the emotion I feel, there is no way to explain that," said Nina Vieira, a musician of the Sao Clemente Samba School. "It's so good to come to the Sambadrome and see all the people singing, supporting the school and I'm in the orchestra. It's very exciting."
Many people who cannot afford to buy tickets can watch through a fence in seats provided by the city authorities, allowing all citizens to feel at the heart of the festivities.
The carnival is due come to an end on Tuesday.