Danish authorities had been warned about radicalisation risk of Copenhagen gunman
Comments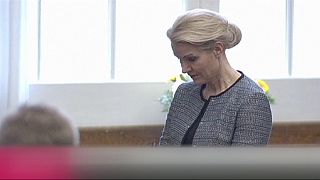 Denmark's domestic intelligence agency (PET) has admitted it had been warned about the man responsible for killing two people in attacks in Copenhagen at the weekend.
PET said in a statement that it had received a report from prison officials saying the gunman was at risk of being radicalised while serving time in jail for a stabbing.
Terrorism expert Lars Erslev Anders, said: "It's more of a behaviour of a young desperate man with a lot of social problems and conflicts with the system that pops up."
"Probably, prison creates some groups where you can feel more confident and that could be these groups selling radicalisation messages," Anders added.
The gunman has been widely named by Danish media outlets as Omar Abdel Hamid El-Hussein.
A minute of silence was held in the Danish parliament on Tuesday for the two victims of shooting attacks in Copenhagen at the weekend.
Throughout the day, amid heightened security in Copenhagen, people continued to lay flowers and candles outside the Synagogue where one of the victims was killed.