Police find no explosives in suspect package at Copenhagen cafe
Comments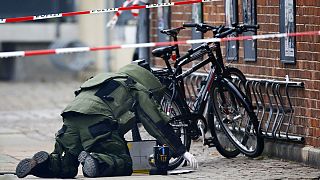 Danish police say no explosives have been found in a suspect package left outside a Copenhagen cafe, the scene of a fatal shooting three days ago.
Bomb disposal experts and police with sniffer dogs rushed to the cafe after the item was reported this morning.
The city has been on high alert since a lone gunman sprayed the shop with bullets, killing a man taking part in a free-speech event. He later fired on a synagogue, fatally wounding a guard.
Authorities have declined to identify the shooting suspect, who was later killed by police, but Danish media outlets have named his as Omar Abdel Hamid El-Hussein. Recently released from prison, he was allegedly well known to police.
On Monday night, thousands gathered in the Danish capital to pay homage to the victims.
Police are now holding two people arrested on Monday who are accused of helping the shooter.