Egypt bombs Islamic State militants in Libya
Comments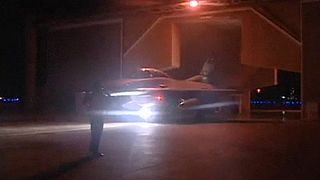 Egypt has bombed several Islamic State targets in Libya, reportedly killing up to 50 militants. It comes after the group released a video appearing to show the beheading of 21 Egyptians there.
The dawn air strikes, in which Libya's air force also participated, are said to have hit ISIL training camps and weapons storage areas.
Hours earlier Egypt's President Abdel Fattah al-Sisi appeared on state television declare he reserved the right to retaliate against those he described as "murderers and criminals without the slightest humanity."
In the ISIL video it was made clear the victims had been targeted because of their Coptic Christian faith.
France has now called on the United Nations Security Council to meet over the security situation in Libya and take new measures.
Relatives of the victims seen here before news of their loved ones reached them, had criticised the government of not doing enough to secure their release.
Despite the government's advice, thousands of Egyptians desperate for work have travelled to Libya since the uprising at home in 2011.