Egypt warns of retribution against ISIL after apparent killing of 21 Egyptian Christians in Libya
Comments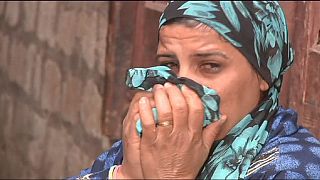 Egypt's president has warned his country will respond to the brutal killing by ISIL militants of 21 Egyptian Christians.
A propaganda video purporting to show the eventual beheadings of the 21 migrant workers who were kidnapped in Libya has been widely condemned.
President Abdel Fattah al-Sisi declared seven days of mourning before making delivering his warning.
"Egypt reserves the right of retaliation and with the methods and timing it sees fit for retribution from those murderers and criminals who are without the slightest humanity."
The kidnapped Egyptian workers were taken in December and January from the coastal town of Sirte in eastern Libya which is now under the control of Islamist groups.
Libya has been in turmoil since 2011 and the overthrow of its leader Muammar Gaddafi.
Relatives of the victims had criticised the government of not doing enough to secure their release.
On the video it was made clear the victims had been targeted because of their faith.
Thousands of Egyptians desperate for work have travelled to Libya since the uprising at home in 2011.
Egypt has denied reports it has in the past taken part, along side its close ally the United Arab Emirates, in airstrikes against militants based in Libya. The killing of the workers may now change all that with Cairo possibly sanctioning airstrikes across the border. Sisi has previously warned that ISIL and others are a danger not just to Egypt but also to the Middle East.
.