Strategic Ukrainian towns fall silent at midnight
Comments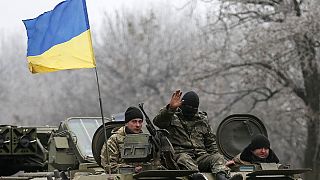 Ukrainian President Petro Poroshenko ordered government forces to cease firing at midnight on Sunday, in line with a peace agreement reached on Thursday in Belarus.
Hours earlier, rebel leaders in eastern Ukraine also told their forces to observe the truce.
Ahead of the ceasefire, at least two buildings in the town of Artemivsk were shelled resulting in fires that took hours to put out.
Debaltseve, a strategic rail hub, has also seen fierce fighting in recent days.
The two towns are currently under government control but lie between two main rebel-held regions.
Observers says both sides had attempted to shore up their positions before the ceasefire came into effect.
But reports say both towns and other areas of eastern Ukraine fell silent at midnight.