New Ukraine ceasefire is largely respected
Comments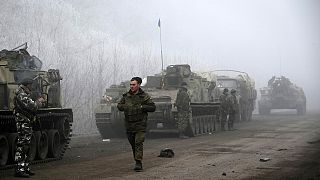 The ceasefire that started at midnight in Ukraine's conflict appears to be largely holding.
They aren't shooting and, as I go, my soul is rejoicing and I feel like singing
Ukrainian President Petro Poroshenko ushered it in by making an address on television, wearing the uniform of the armed forces supreme commander .
But he warned that if his country was slapped once it would not "turn the other cheek".
At least two civilians have been killed since the truce came into effect according to Kyiv which blames separatists for isolated incidents.
In Donetsk, the main stronghold of the pro-Russian rebels, the guns couldn't fall silent soon enough for a population caught in the crossfire.
In the hours leading up to the ceasefire, heavy artillery and rocket fire roughly every five seconds had reverberated across the city.
Mistrust is high on both sides after a similar peace deal last September failed to hold. But for now people want to believe.
"They aren't shooting, and as I go my soul is rejoicing, and I feel like
singing," said one Donetsk resident who gave his name as Gennady.
"We really needed this peace, but not at any cost," he added, urging Ukrainian soldiers to leave the Donetsk region.
"We didn't sleep until 1 o'clock in the morning," said fellow Donetsk dweller Lyudmila.
"After that it went quiet and we went to sleep. Now we are going shopping because it seems to be calm."
But will it last? In ominous remarks, a senior rebel commander has said that despite the truce, his men have the right to fire on the strategic town of Debaltseve because "it is our territory".
Washington accused Moscow of sending armoured columns of troops into action in the days leading up to the ceasefire to help the rebels score territorial gains before the truce took effect.
Russian President Vladimir Putin denies Moscow is involved in fighting for territory he calls "New Russia". Western officials cite overwhelming evidence to the contrary and Washington and its allies have imposed economic sanctions on Moscow.
The ceasefire, negotiated in four-power talks on Thursday, foresees the creation of a neutral buffer zone and the withdrawal of heavy weapons.
More than 5,000 people have been killed in a conflict that has caused the worst crisis in Russia-West relations since the Cold War.