Pope Francis elevates 20 new cardinals many from developing countries
Comments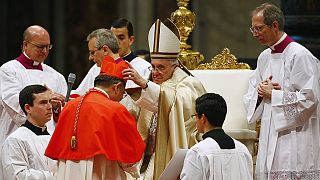 Pope Francis has elevated 20 prelates to the post of cardinal at a ceremony in St Peter's Basilica.
Many of the new cardinals are from developing countries and marks the first time prelates from Myanmar, Tonga and Cape Verde have been inducted.
Pope Francis outlined what he believes is the role of the cardinal: " It is certainly an honour, but it is not honorific. This we know from the name cardinal," from the word cardo which means hinge. As such it is not a kind of accessory, a decoration like an honorary title. Rather it is a pivot, a point of support and movement essential for the life of the community. You are hinges and are incardinated in the Church of Rome which presides over the entire assembly of charity."
Fifteen of those who received their red biretta are under the age of 80 and therefore eligible to vote to choose the next head of the Catholic Church.