French baker facing closure for selling bread seven days a week
Comments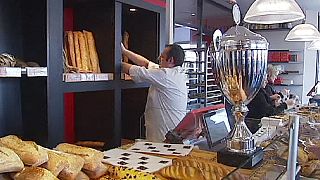 Some say in France, there's little in life that's more important than bread, cheese and wine. That's why the fate of one baker is causing a stir.
Stephane Cazenave has been charged with breaking labour laws for opening his shop in Saint-Paul-lès-Dax seven days a week.
"Twice the labour inspectors came to see me about my closing day and the police questioned me as well. They told me that they had better things to do than question a baker who simply wants to work. The next step is court," said Cazenave.
Cazenave is renowed across southwest France as he has previously won the country's best baguette award. He claims his business will lose around 250,000 euros a year if he's forced to close one day a week.
Many of his customers say he's a national treasure that should be celebrated.
But no matter how brilliant your bread is, France's bakers union says too much of a good thing leaves a bad taste in the mouth for others.
Jean-René Labat from France's bakers confederation: "Not everyone can stay open seven days a week and those that can't would lose out."
The case has now been picked up by France's opposition UMP party which has previously tried and failed to reform France's labour laws, including its 35-hour working week.