Freeride World Tour: Sam Smoothy shines in Andorra
Comments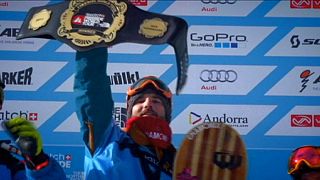 New Zealand's Sam Smoothy held his nerve to clinch the third stage of the Freeride World Tour in Andorra on Thursday.
The 28-year-old looked in great shape and collected a total of 91.25 points, enough to down Switzerland's Jeremy Heitz with current overall leader Reine Barkered of Sweden completing the podium.
Elsewhere, France's Jonathan Charlet reigned supreme in the Snowboard category while Josie Hazel Birnbaum outclassed Austria's Eva Walkner to clinch the women's event, giving her a major boost ahead of stage 4, which kicks off in Alaska on March 14.