Ukraine conflict: Leaders agree a joint declaration following peace talks in Minsk
Comments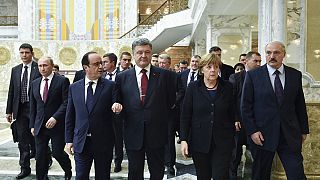 The leaders of France Germany Russia and Ukraine are to sign a joint declaration following marathon peace talks in Ukraine.
The details of the document are unknown as yet but there is speculation it may include an imminent ceasefire.
The talks which went on throughout Wednesday night were held in Belarus under a Franco -German initiative.
They took place in the same city, Minsk where last September a truce between Ukrainian government troops and pro Russian rebels was agreed but never fully observed by either side.
The conflict has so far claimed the lives of more than 5,000 people and displaced more than one million.
The quartet of leaders are said to have met alone which is an unexpected break with diplomatic procedure but the stakes are high.
The main aims of the talks have been to agree a withdrawal of heavy weapons and a demilitarised buffer zone but above all to establish that elusive ceasefire.