Serbia, Hungary demand help from EU to stem migrant 'exodus' from Kosovo
Comments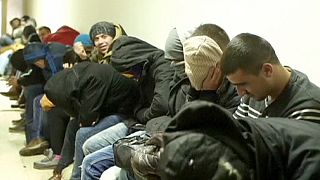 Serbia and Hungary are demanding the European Union does more to stop what they described as an "exodus of migrants" from Kosovo.
More than 30,000 have been discovered in Hungary since September, compared with just 6,000 for the whole of 2013.
Serbia's relaxed travel rules for Kosovans have allowed them to travel into Serbia up to the border with Hungary to the north, and then smuggle themselves across into the European Union.
One man explained: "We are leaving because we cannot find a job here. What should we do? There are no jobs, no future. There is nothing here. Where are those politicians who don't care about the people? They should see people are fleeing."
Almost all apply for asylum. Many reportedly use the time it takes to process their applications to give authorities the slip and push westwards through the EU's borderless Schengen area into Germany and Switzerland.
Authorities are at a loss, though, to explain the sudden jump in numbers since September.