Minsk deal provides hope for peace in eastern Ukraine but leaders warn 'major obstacles' remain
Comments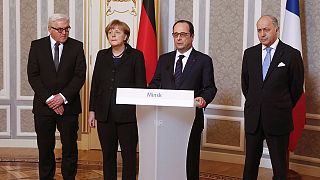 Russian President Vladimir Putin's announcement of a ceasefire deal for eastern Ukraine marks a significant breakthrough.
Marathon talks have been held in the Belarussian capital Minsk, in an effort to put a stop to fighting in the area.
Putin said the truce would come into effect on Sunday (February 15) and that the withdrawal of heavy artillery would take place over the two weeks that follow.
Speaking from Minsk, German Chancellor Angela Merkel said the agreement was partly down to pressure Putin put on pro-Moscow separatists in the restive east of Ukraine.
"There is a glimmer of hope here," she said. "We have an in-depth implementation plan from the Minsk agreement but, of course, concrete steps have to be taken and we will still face major obstacles. But, on balance, I can say that what we have achieved provides significantly more hope than if we had achieved nothing."
She also praised the efforts of Ukrainian President Petro Poroshenko, who "did everything to achieve the possibility of an end to the bloodshed".
Their French counterpart, President François Hollande, travelled straight from the 16-hour talks to a Eurogroup meeting in Brussels, where he confirmed: "An agreement has been reached. We are no longer at odds over the issue. But the agreement doesn't guarantee lasting success over the coming days. It implies that we remain vigilant while exerting pressure and that we continue with our efforts, which were undertaken thanks to the initiative the Chancellor and I started."
Fighting in the east has destabilised Ukraine economically and militarily.
Following the agreement on a peace plan, the International Monetary Fund offered Ukraine loans as part of a 35 billion euros package to prevent the country's financial collapse.