Human language has a tendency to be slanted towards happy words, according to a new study.
And Spanish was found to be the world's happiest language.
A team from the University of Vermont studied movie subtitles, Twitter feeds, literature, websites and song lyrics. They created a list of 10,000 of the most commonly used words in 10 languages: English, Spanish, French, German, Korean, Chinese, Russian, Brazilian Portuguese, Indonesian and Egyptian Arabic.
The researchers got native speakers to rank selected words on a nine-point scale of emotion. In English, for example, the word "greed" received a score of three, "terrorist" was awarded one point while laughter received a rating of 8.5.
In English and Spanish, the word lowest rated was"death" while "love" received the highest score.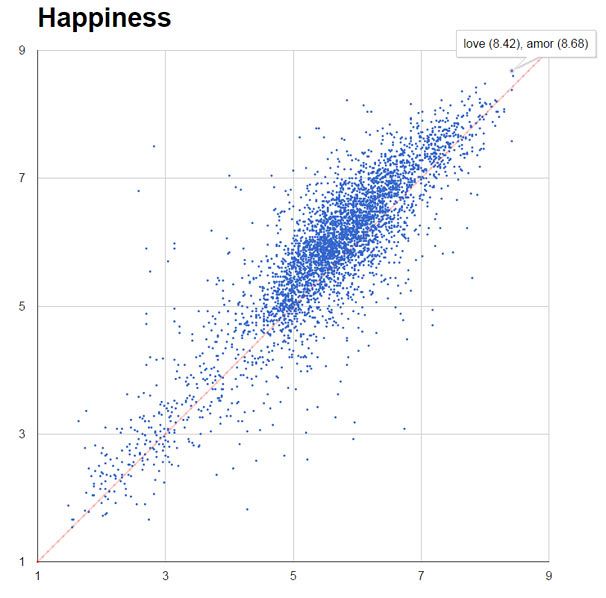 For linguistic happiness, Spanish scored the highest. This was followed by Brazilian Portuguese, English and Indonesian. Chinese was ranked lowest.
"We looked at 10 languages, and in every source we looked at, people use more positive words than negative ones," said Peter Dodds, mathematician at the University of Vermont and who co-led the research.
This huge study of the "atoms of language – individual words," Dodds says, indicates that language itself ¬- perhaps humanity's greatest technology – has a positive outlook. And, therefore, "it seems that positive social interaction", Dodds says, is built into its fundamental structure.
The researchers wanted to study the Pollyanna Hypothesis which is the tendency for people to look on the brighter side of life
They concluded that these "and probably all human languages skews towards the use of happy words".