Breakthrough in Minsk as leaders agree to ceasefire deal on Ukraine
Comments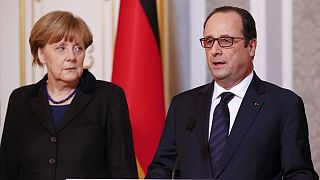 A breakthrough in Minsk as Putin announces a ceasefire deal following marathon talks to end the fighting in east Ukraine.
The Russian president said the truce would come into effect on Sunday and that the withdrawal of heavy artillery would take place over the next two weeks.
It comes after more than 16 hours of talks in the Belarusian capital between the leaders of France, Germany, Russia and Ukraine in a last push towards a diplomatic solution to the conflict which has killed more than 5,000 people.
Earlier the Ukrainian president told reporters certain conditions from Russia were unacceptable. The leaders confirmed the respect of Ukraine's sovereignty and territorial integrity, a crucial sticking point in the run up to the talks.
The deal was confirmed by the French president who warned there was still much work to be done.
#BREAKING: A shot of the document that outlines Measures of Implementation of the Minsk Agreement va yurybarmin</a> <a href="http://t.co/hO9tmWHUyT">pic.twitter.com/hO9tmWHUyT</a></p>&mdash; David Patrikarakos (dpatrikarakos) February 12, 2015