Putin backs troop and heavy weapons withdrawal as part of Ukraine ceasefire
Comments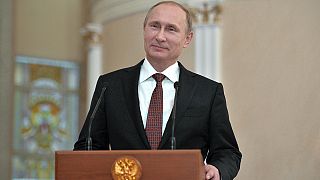 Russian President Vladimir Putin addressed the world's media to present his take on the deal thrashed out in Minsk to bring about a ceasefire in Ukraine.
"We are calling on both sides to exercise restraint and to do everything to ensure the withdrawal of troops and heavy weapons happens without bloodshed and casualties, which nobody wants. We have agreed with President Poroshenko of Ukraine that we will give the order, which I am ready to do, to our military to observe what is happening on the frontline," he said.
The world now waits to see if the delay in the implementation of the ceasefire will see fighting intensify around the strategic railway town of Debaltseve currently under separatist assault.