Poroshenko outlines details of Ukraine ceasefire plan
Comments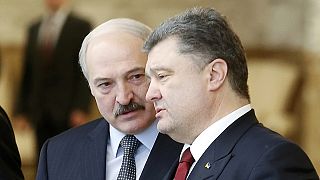 After the exhausting overnight talks Ukraine President Petro Poroshenko emerged and gave an outline of how the ceasefire is expected to take shape: "I can say the most important agreement we reached is that from midnight on Saturday February 15 an unconditional, inclusive ceasefire will be announced without any pre-conditions.
"All prisoners should be released in 19 days, why 19? Because 14 days are given for the withdrawal of heavy weapons and five days to complete the withdrawal and the final release of all hostages," he said.
The pressure is now on to secure the ceasefire on the ground, many observers believe failure will result in an escalation of the violence.