Ukraine talks set to get underway in Minsk
Comments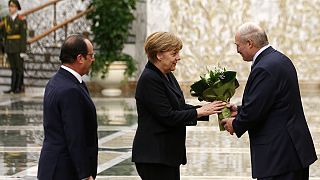 President Vladimir Putin, Chancellor Angela Merkel, President Francois Hollande and President Petro Poroshenko have arrived in Minsk for their four-way summit. Their meeting in the Belarus capital is seen as the last chance for a sustainable peace plan for Ukraine.
The discussions on the day the US announced American forces will start security training for Ukrainian troops from March. The commander of US Army Europe said he believes Moscow has direct influence on rebel forces.
"It is very obvious from the amount of ammunition, the type of equipment, that there is direct Russian military intervention in the area around Debaltseve. We will also have one battalion of soldiers and they will train three battalions of Ukrainians from the Ministry of Interior," Commander Ben Hodges told reporters from his base in Poland.
The announcement comes after reported disagreements between the US and Europe over military help for Ukraine. Ahead of the talks one diplomatic source in Moscow said it was 70 percent likely an agreement will be reached.