Ukraine troops and rebels wage counter-offensives ahead of talks
Comments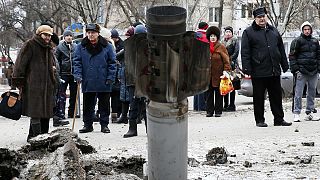 Fighting is intensifying across eastern Ukraine with both government troops and rebels launching offensives to gain ground ahead of peace talks in Minsk on Wednesday.
Separatists have pushed to cut-off a government held road in Kramatorsk but they have denied firing on nearby residential apartments.
At least three people have been killed with more than a dozen injured in the town which lies about 50km from frontlines. It is also where Kyiv's military directs its campaign against pro-Russian separatists.
Kyiv says its waging a counter-offensive in the southeast coastal town of Mariupol, to relieve separatist pressure on Debaltseve.
It is been impossible to verify details of the operation but it is unlikely to provide much relief at the main battle front where government forces have been steadily pushed back.
In Donetsk, the leader of the rebel-held region has repeated his call for volunteers to fight.
A similar appeal has also reportedly been made in the pro-Russian town of Luhansk after rockets hit a soup kitchen, forcing people to hide under tables and run to an underground cellar for cover.
More than 5,000 people have been killed as the battle continues for control of eastern Ukraine.