Obama meets Merkel and keeps open mind on whether to send weapons to Ukraine
Comments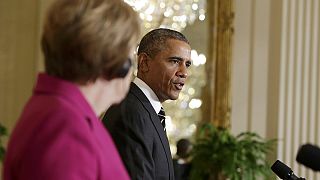 President Barack Obama says the US and its European allies remain committed to finding a diplomatic solution to tensions with Russia over the Ukraine crisis.
He was speaking at the White House with visiting German Chancellor Angela Merkel, who is at the forefront of delicate European efforts to reach a deal with President Vladimir Putin.
"We continue to pursue a diplomatic solution despite suffering setbacks and we will find out in the coming days whether there is a will on all sides for such a solution to be found," the German leader told a news conference.
Merkel added that she does not see a military solution to the crisis.
Under pressure from some in the Republican-controlled Congress to send weapons to Ukraine, the President is keeping an open mind.
"If in fact diplomacy fails, what I have asked my team to do is to look at all options – what other means can we put in place to change Mr Putin's calculus ," he told reporters.
"The possibility of legal defensive weapons is one of those options that has been examined, but I have not made a decision about that yet,"
Obama accused Moscow of breaching September's ceasefire deal by violating "just about every commitment they made" and said Russia risked further isolation if it continued on its current course.
As well as discussing the Ukraine conflict that has now claimed more than 5,000 lives, the two allies have also focussed on the international fight against ISIL.