Kyiv pessimistic over peace talks
Comments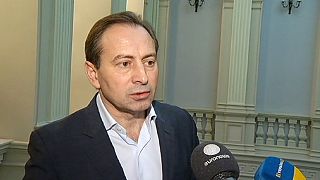 Though peace plans are in the pipeline, there is little hope on the streets of Kyiv for a quick resolution to the conflict in the east of Ukraine.
The human cost weighs heavily on the minds of the residents in the capital.
"I think the chances are slim to resolve this issue. How many negotiations did we have before? And Ukrainian people keep dying. My father was mobilised too. I'm afraid… I want him to come back alive," explained one Kyivite.
"We need to negotiate, because our people are dying, our children are dying. People (in Donbass) don't understand what they're doing! It's so easy to ask for freedom, but what will they do with this freedom later? Who will rebuild Donbass?" asks another local.
Even politicians believe that the prospects for peace are slim to none. MP Mykola Tomenko from the president's party says they have drawn clear lines over territorial integrity.
"There are hopes that we'll find a formula of ceasefire, but not if it means losing any sovereignty or territory. We can only talk about some features of self-government in the east."
According to Volodymyr Fesenko, a political expert, the only chance for success in the talks is by taking small steps. :
"The main expectation is to agree on a ceasefire in the country's east. I doubt that now we can expect the conflict to be resolved. The crisis is very complicated and it's gone too far," he said.
Despite the flurry of diplomatic efforts to end the conflict, a mistrust of Russia appears to feed the pessimism felt in Kyiv.