Former Zamalek player blames extremists for deadly football crush
Comments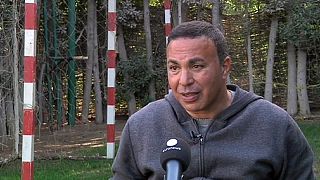 All football in Egypt has been postponed indefinitely after dozens of people were killed in clashes between fans and police in Cairo on Sunday.
It is understood the victims, all Zamalek supporters, were crushed in a stampede after police fired tear gas to stop ticketless fans from entering the stadium.
Euronews spoke to former Zamalek player Ayman Younis about the latest outbreak of football-related violence in the country.
"There are many teenagers who are misled. They have little else in their lives so they look for something to belong to and it's easy for them to become extremists, which is wrong," said Younis. "We don't need to die for a football game or for any club, regardless of what anyone says, but this is extremism. Poverty also affects some of these fans too," he added.
Despite a protest by fans inside the stadium, the match between Zamalek and city rivals ENPPI, went ahead and ended in a 1-1 draw.
Ahmed Salem, a neighbour of one of the men killed denied he was an extremist in any way: "He was an engineering student just going to cheer his team. He suffocated while some of his friends were shot."
Differences also remain over the death toll. Government officials claiming 19 people were killed but local hospital sources say as many as 40 people lost their lives.