Dozens of migrants die from exposure on Italian coast guard boats
Comments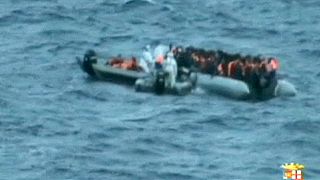 The mayor of the Italian island of Lampedusa, Giusi Nicolini, has blamed the death of 29 migrants on the closure of the country's sea search-and-rescue mission.
The victims died of hypothermia aboard Italian coast guard vessels after being picked up from an inflatable boat adrift near Libya.
Coast guard commander Giovanni Pettorino said: "criminal smugglers were sending people to certain death and also endangering the live of rescuers."
Italy's search-and-rescue mission shut down last year.
Since then no navy ships capable of keeping large numbers of migrants below deck have patrolled the waters near the Libyan coast.