AFCON champs Ivory Coast return to heroes welcome
Comments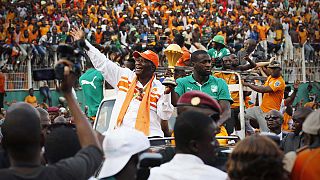 The elephants have landed and with their latest piece of silverware firmly in hand.
The Ivory Coast arrived home to a heroes welcome on Monday after having won their second Africa Cup of Nations title 23 years after their first.
Hundreds of thousands of fans gathered at the airport and lines the streets of the commercial capital Abidjan to celebrate with their national team.
The West African state beat Ghana 9-8 in a dramatic penalty shootout after regulation and extra time ended in a goalless draw.
The streets were awash with the orange, white and green colours of the national team.
The large number of fans that turned out was to no great surprise as the government announced a public holiday to celebrate their sporting triumph.