Leaders agree four-way talks on Ukraine crisis in Minsk on Wednesday
Comments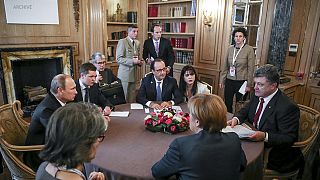 German Chancellor Angela Merkel, French President Francois Hollande, Ukraine President Petro Poroshenko and Russian President Vladimir Putin will get together on Wednesday in Minsk to discuss the Ukraine crisis.
The four-way meeting was agreed after the leaders talked by telephone on Sunday.
"We will aim to meet on Wednesday if by then we have managed to agree our positions, which we have been discussing very intensively in recent days," confirmed Vladimir Putin.
A statement from the Ukraine president said progress had been made during Sunday's telephone call and that the leaders expect the talks in the Belarus capital to lead to a "swift and unconditional ceasefire."