Merkel and Hollande hold urgent talks with Putin in Moscow
Comments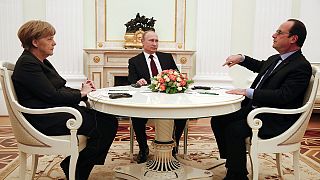 It was described as a last-ditch effort to negotiate a peace deal for Ukraine.
The leaders of France and Germany have been in Moscow for an urgent meeting with the Russian President in the Kremlin.
There is no word on whether any real progress has been made, but beforehand diplomats said chances did not look good.
A spokesman for the Russian president said the talks were "constructive".
Angela Merkel and Francois Hollande met Vladimir Putin after five hours of talks with the Ukrainian President.
There is growing concern about the escalation of the conflict in Ukraine, with the death toll rising in clashes between rebels and government forces.
The rebels, who control Donetsk and Luhansk, have been attempting to advance further into Ukrainian-held territory, surrounding key towns.
Some diplomats are privately saying that it is unlikely President Putin will call on the rebel leaders to back down when they feel they are advancing in their offensives.
The EU is currently considering new sanctions against Russia.