NATO sets up battle supply points in Baltics and eastern Europe
Comments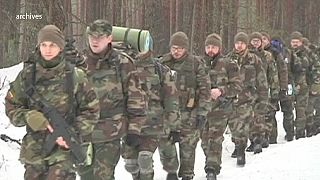 With fear growing in the Baltic states over what could happen if Russia had aggressive intentions towards them, NATO has announced new supportive measures.
Lithuanian paramilitaries training for combat have seen volunteer numbers soar, lately.
Lt. Col. Liudas Gumbinas said: "In fact, Russian aggression against Ukraine has impacted (the Lithuanian Riflemen's) Union. Last year we accepted around 1,000newcomers into our organisation and today we are counting more than 8,000 members."
Russia's annexation of Crimea in Ukraine last year stupefied Europe and its allies.
NATO stood by when Georgia had its micro-war, with Russian intervention in 2008, and now NATO sees Moscow forcing new unilateral modifications.
It is not in NATO's remit to get involved in a conflict unless one of its members is threatened, and Ukraine is not a member.
NATO chief Jens Stoltenberg announced what he said will be the biggest reinforcement of its collective defence since the Cold War ended.
Stoltenberg said: "In Ukraine violence is getting worse and the crisis is deepening. Russia continues to disregard international rules and to support the separatists with advanced weapons, training and forces."
NATO Defence Ministers in Brussels on Thursday approved what they consider defensive actions in eastern Europe.
An existing Rapid Reaction Force numbering 13,000 various troops will be strengthened to 30,000. This will include a Spearhead Force of 5,000, deployable within 48 hours, with air and naval support.
These lead units are to have key contributions from Britain, France, Germany, Italy, Poland and Spain.
Stoltenberg cited a "changed security environment".
Six command units with up to 50 logistical personnel are to be pre-positioned with supplies immediately, in Estonia, Latvia, Lithuania, Poland, Romania, and Bulgaria.
The fuel, rations and equipment at command units will be available to the Rapid Reaction Force in case of need. This force is also deployable in theatres of conflict not confined to the six appointed countries.
Stoltenberg said NATO's core responsibility is to keep its nations safe.