Debaltsevo residents in eastern Ukraine flee fighting through humanitarian corridor
Comments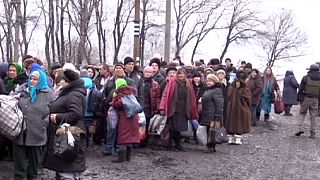 Dozens of buses with local residents on board have left the conflict zone in Debaltsevo in eastern Ukraine.
They have been guaranteed a safe passage after a local ceasefire was agreed between the Donetsk militia and the Ukrainian forces command. The operation through the humanitarian corridor started just before midday and was to be completed within seven hours.
"We have great hopes that the meetings of these two authoritative world leaders, German Chancellor Angela Merkel and Russian President Vladimir Putin will lead to positive developments. It is not normal that there should be a war on the territory of a state that is, by its very nature peace-loving," explained General Oleksandr Rozmaznin of the Ukraine military.
For many there were more immediate worries than the talks in Moscow. Some reports said the separatists had continued to shell the area.
Last month there were claims around 8,000 Ukrainian troops had been surrounded close to the city as rebels cut off the only road linking the area to Kyiv held territory. The Ukrainian government initially denied the reports.