People of Donetsk doubt peace talks in Moscow will achieve anything
Comments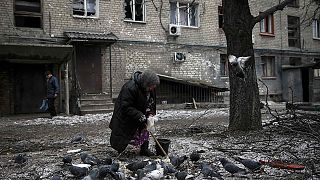 Donetsk is a city that is weary, tired of the conflict and losing hope for the future. People in the rebel held stronghold in the east of Ukraine have seen clashes between government forces and separatists intensify in the sector. Talk of peace deals with Moscow holds little currency, for many it's all been said before.
"How much more negotiation is it going to take. As fas as I am concerned our Ukrainian government understands force only. Force against force. It doesn't understand anything else. They just keep promising," said teacher Nataliya Alekseyenko.
Pensioner Esfira Papunova also held out little hope that the talks would achieve any results. "I don't expect anything, I'm so tired of this, it has been going on for so long, and since there were no results before I don't expect anything this time," she said.
Donetsk still goes about its business – held and administered by the rebels – but ironically the welfare of its citizens is still paid for by Kyiv.
The damaged structures are being rebuilt but it is what happens in Moscow which could determine if the foundations will remain secure.