Silk Road creator Ross Ulbricht guilty of running vast online drugs trade
Comments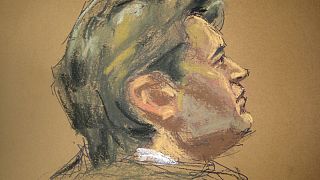 The suspected mastermind of the underground website Silk Road has been convicted of creating a multi-million dollar online marketplace for illegal drugs.
A federal jury in New York took under a day to find Ross Ulbricht, 30, guilty on all seven counts following investigations into use of the digital currency bitcoin to commit crimes.
His mother claimed the defence had been hindered in arguing he had been framed.
"I think it was unfair, I think it was not a level playing field. We didn't get to, three of our witnesses did not get to testify. A lot of the evidence, a big bulk of evidence, was not allowed to be presented. And evidence that was presented was stricken, and so the whole picture wasn't presented," Lyn Ulbricht said afterwards.
Prosecutors argued Ulbricht used the pseudonym Dread Pirate Roberts to broker deals promising anonymity – but law enforcers exposed him.
"I think what it does show is that the government has the ability to infiltrate and prosecute hackers and individuals who are running these hidden websites. They used a lot of what you might call old-fashioned law enforcement techniques to do it. They called co-operators, they seized evidence off his computer at the time of his arrest. But clearly, Dread Pirate Roberts thought he was beyond capture. And they demonstrated that that's not true. That they have the ability to identify who was using websites and who is using e-mail addresses, and to hold those people responsible," said former New York federal prosecutor Peter Skinner.
The defence argued that Ulbricht quit Silk Road soon after its creation, before it became overrun by drugs dealers.
The government said he operated the site from beginning to end.
The San Francisco man is due to be sentenced in May. Some charges carry a maximum of life in prison.