More bodies are recovered from the Taiwan plane crash
Comments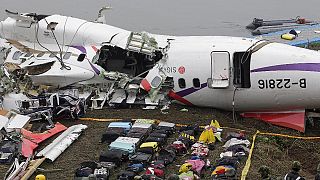 Investigators are searching through the wreckage of a TransAsia plane which crashed on Wednesday in Taiwan.
At least 31 bodies have been recovered but another 12 people are still missing.
Fifteen survived the impact when the plane crashed into a river in Taipei.
Officials say the plane's black box data record has been recovered.
Amateur video shot from the dashboard of a car recorded the moment when the aircraft clipped an overpass with its portside wing and crashed,.
The last communication from one of the pilots was a Mayday call implying a problem with one of the engines.
TransAsia Flight GE235 was carrying 58 passengers and crew and was bound for the Taiwan island of Kinmen.
Taiwan has had a poor aviation safety record in recent years, including the disintegration of a China Airlines 747 on a flight from Taipei to Hong Kong in 2002 killing 225.