Hope for patients of mitochondrial diseases after UK's historic vote
Comments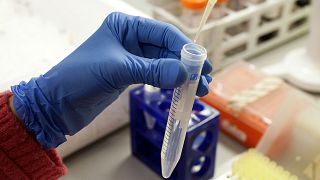 On Tuesday, British MPS voted 382 to 128 in favour of making the UK the first country to allow a "three-parent" IVF, also known as mitochondrial donations. Doctors says the technique will prevent some currently-incurable genetic diseases.
It is not 'designer babies'... It's saving lives.
While the procedure is seen by some religious groups and other critics as a step towards creating designer babies, for sufferers of mitochondrial diseases and their families, the vote provides optimism for the future.
"I am delighted at the result [of the vote]" Faye Wylie, a 25-year-old Briton, explains. "This will mean no more devastation for some families watching their children suffer knowing there is no cure."
Faye, who lives near Liverpool, knows the situation all too well. She was diagnosed with Leigh Syndrome, a mitochondrial disorder which affects energy production in cells, in 2010. Since then, "the disease has stolen so much from [her] including my mobility, speech and eyesight and causes so much pain with dystonia."
The same year she was diagnosed, at age 20, she founded the Leigh Network support organisation and arranged the first open forum between families and a doctor.
"Since then we've had five more around the UK." Faye told euronews by e-mail, and not by phone because, as she explains, her speech is impeded by her disease.
"2014 was a fabulous year for the Leigh Network as we had awareness days in local supermarkets, a coastal Butterfly Walk, a family meeting with a doctor, where we met new families and some familiar faces."
"It saves lives"
For the tireless activist, who won the 2012 local campaigner of the year award from Leonard Cheshire Disability and was nominated the next year for Cheshire Woman Of the Year Award, there should not be any controversy surrounding the medical procedure.
"It is heartbreaking for parents to watch their child suffer, have seizures, suffer painful muscle spasms – some go blind and deaf and have organ failure – and know there is no cure."
Faye has turned to social media to reach out to families affected by mitochondrial diseases and to raise awareness about the disease.
When the results of the House of Commons vote came in, she was relieved and ecstatic.
Faye's family understands all too well the tragedy of mitochondrial disease. In a touching entry on the Leigh Network blog published a couple months ago for Mitochondrial Awareness Week 2014, she tells the story of ''the worst days of [their]lives'', , the passing of Sam.
"Sam was my baby brother who was diagnosed in 1991 with Leigh's disease at the age of 18 months," she told euronews. "He passed away one month later at age 19 months."
"If there is a small chance one family and families in the future can be saved from this, this technique will mean so much to those families affected." Faye explains.
"It is not 'designer babies' as some media are portraying. It's saving lives."


Watch euronews' report on mitochondrial transfers
Credit Photo CC BY
Flickr/VHIR