Drought concerns force Brazil to cancels carnivals
Comments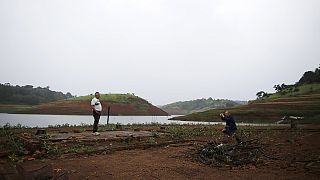 A host of cities in Brazil have been forced to cancel their carnivals amid concerns over an ongoing drought.
In a country known for sunshine and samba, measures taken by some authorities have not been widely welcomed.
Pepe Carrascosa, is president of samba school, Tradition and Heart of Araras : "I don't think that three or four hours of a carnival parade will affect it (the water supply). From my point of view it was an unfortunate measure, they (the authorities) have not realised that Brazil is known for its carnival."
Unsurprisingly, Marcelo Daniel, the Secretary of Culture for Araras, disagrees: "We have cancelled the street carnival to stop tourists coming to the city, so the city is quieter during carnival. We don't have good conditions to have a big celebration and one of the reasons is the water crisis."
The worst drought in decades to hit Brazil has mainly affected Sao Paulo state and the country's biggest city, Sao Paulo.
With no end in sight to the hot and torrid conditions, authorities say they have little choice but to stop the party in a bid to save depleted supplies.