Jordan promises revenge for ISIL's brutal murder of captive pilot
Comments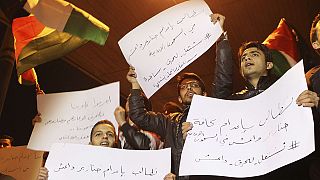 Jordan has reacted with fury at the brutal killing of one of its pilots at the hands of Islamist extremists and promised an "earth-shaking" response.
King Abdullah cut short a visit to the US returning home after meeting President Obama and quickly appearing on Jordanian television:
"It is the duty of all of us, sons and daughters of the nation, to stand up as one, to show the true colour of the Jordanian people in the face of this adversity and crisis."
The king went on to offer his sympathy to the murdered pilot's family and to pay tribute to him.
It is believed 26-year-old Lt Muath al-Kasasbeh was probably killed a month ago, just after his plane crashed in Syria. He'd been taking part in the US-led coalition against ISIL.
As soon as news of the murder appeared, anti-ISIL protesters turned out on the streets of Amman calling for revenge.
A Jordanian official has since said several militants being held in Jordan will be swiftly executed including a female suicide bomber whose release ISIL had demanded in a prisoner swap.
Jordanian officials have indicated recently they may expand their role in the anti-
ISIL
battle although what specific new help Amman might offer is unclear.
But the campaign also poses risks for Jordan, where there are pockets of support for ISIL and which have been keen not to trumpet its military role in a neighbouring Arab country.
In a video issued by ISIL a man dressed in orange clothes like those worn by other foreign ISIL captives is seen in acage and is set fire to.
Leaders from around the world have voiced outrage at the brutality, including Britain's Prime Minister David Cameron:
Lieutenant Moaz al-Kasasbeh's sickening murder will only strengthen our resolve to defeat ISIL. My prayers are with his family tonight.

— David Cameron (@David_Cameron) February 3, 2015