German football loses a giant with the death of Udo Lattek
Comments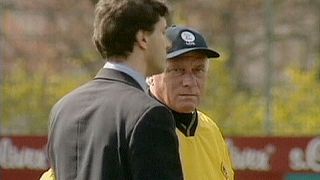 The most successful club manager in German football history, Udo Lattek, has died aged 80.
He was one of a select few managers to win all three major European club competitions, and won a record eight German titles, six with Bayern Munich, and two with Borussia Moenchengladbach. He also managed Dortmund, Cologne, Shalke 04 and Barcelona in his stellar career.
It began when then-player Franz Beckenbauer said the national sides' assistant coach would make a good manager for Bayern Munich. From having never managed a club before Lattek took Bayern immediately to three national titles, and then three European cups, all in the space of seven years.
He had suffered a series of strokes had been treated for Parkinson's disease.
"Udo Lattek was not only the most successful coach in Bundesliga history," German Football Association President Wolfgang Niersbach said in a statement on Wednesday, "but he was already during his lifetime a legend and we will miss him."
"Udo Lattek was one of the most successful German coaches," said Bayern CEO Karl-Heinz Rummenigge. "For decades he was also one of the big personalities of the sport, nationally and internationally.We have lost one of the big men of Bayern Munich, a personal supporter and a friend."
Outspoken and always with a dry sense of humour in his view of the way the game was played these days, Lattek remained a household name, spending 16 years as a commentator on Germany's popular Sunday morning football show "Doppelpass".