Debaltseve residents caught in the crossfire as Ukrainian crisis worsens
Comments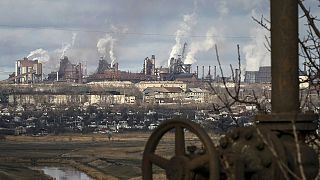 Civilians in the Ukrainian city of Debaltseve are struggling to survive, caught in the centre of the crossfire between government forces and separatist rebels.
Heavy shelling has left a trail of destruction as an estimated 10,000 people – that's half the population – remain in the city.
'' Things are just flying around. You have to try to find shelter in time. Some people were too late. There are so many people lyingon the ground, covered with blankets. There's no way to bury them because nobody will dig graves during the shelling," explained one resident.
Kyiv troops are trying to defend the strategic city of Debaltseve against pro-Russian rebels who are advancing trying to connect two rebel strongholds.
There has been talk of of a temporary ceasefire. Yesterday the shelling stopped for two hours while some of the injured were taken out.
But a longer one will be needed to evacuate the rest of the city.
In the meantime locals are forced to seek shelter where they can.