In Eastern Ukraine killing of civilians worse
Comments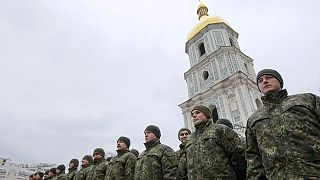 War in the east of Ukraine jumped to a deadlier level with the shelling of Mariupol on Saturday 24 January.
Rockets hit a market, schools, homes and shops, killing 31 people, injuring 117.
Western monitors said the attack on Mariupol came from separatist-controlled areas. Ukraine's top rebel leader said an offensive had begun.
Last week saw the worst fighting since the signing of a cease-fire five months ago. In Horlivka, both sides targeted hospitals with their artillery, on 26th January.
The rebel fiefdoms of Donestk and Luhansk were bombarded all last Monday. Kyiv said 11 soldiers were killed.
The regionally strategic railway hub of Debaltseve remained in Ukrainian government hands. The front line with the rebels swerves around it. It lies between the two largest rebel-held cities, Donetsk and Luhansk.
In government-held Popasna, two civilians died in shelling. As many as 5,000 inhabitants have been evacuated.
In Debaltseve, surrounded, on January 28th and 29th eight Ukrainian soldiers were killed.
On Friday 30th, a cultural centre and a trolleybus were struck by shells in separatist Donetsk. The city administration said at least seven people were killed, and Kiev said five of its troops. The government's tanks hammered rebel positions in the Luhansk area on 1st February. In engagements here, 13 soldiers were killed.
On Sunday, this past weekend, rebel fire on Debaltseve caused seven deaths, the interior ministry said. According to Kyiv, this brings the death toll since the new year to 118 civilians, seven of them children.
The National Security and Defence Council says that more than 2,000 people were taken out of the Donbass region war zone last week.