Unexploded bombs discovered at Cairo airport, other blasts reported in Egyptian cities
Comments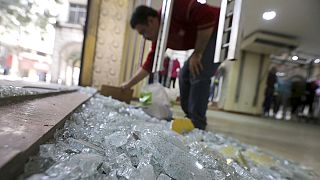 Security has been stepped up at Cairo airport in Egypt after two unexploded bombs were discovered near the arrivals hall.
Egypt's state news agency reported another bomb exploded in the centre of the capital without casualties while there were also reports of a blast near the Defence Ministry.
Earlier an attack killed a 27-year-old man in Alexandria, Egypt's second city.
Another man and his son were injured in the blast which happened near a police checkpoint, according to security sources.
It is believed the police were the intended target, but the checkpoint close to the Mabaret Al-Asafra Hospital had been moved before the attack.
Islamist militants have carried out numerous bomb attacks on Egypt's police and army. Most have occured in the Sinai region and have been claimed by jihadist groups aligned to the militant ISIL.