UK votes in favour of three-person babies law
Comments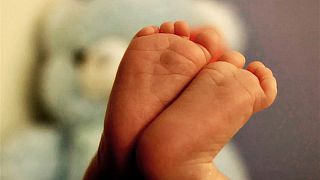 The United Kingdom will become the first country in the world to allow the creation of babies from three people after MPs in Britain have voted in favour of the technique.
A newborn baby will be able to have DNA from the mother, father and a donor woman of healthy mitochondria. Where the biological mother has defective mitochondria, the technique will allow for this to be replaced with the healthy version from a donor woman.
Mitochondria are tiny parts of the cell that convert food to energy. While they contain DNA they do not affect characteristics.
The new law will help eradicate a disease that is passed on from the mother that led to brain damage, muscle wasting, blindness, loss of hearing and heart failure.
A baby with donated mitochondria isn't a 'three-parent baby' any more than an adult receiving a kidney donation is a 'three-parent adult'.

— Oliver Cooper (@OliverCooper) February 3, 2015
Jane Ellison, the Public Health Minister said: "This is a bold step for parliament to take, but it is a considered and informed step. For the many families affected, this is light at the end of a very dark tunnel."
But Fiona Bruce, the MP for Congleton, argued that the implications for this could not be predicted: "Once this alteration has taken place, once the gene is out of the bottle, once these procedures that we're asked to authorise today go ahead, there will be no going back for society."
Her words were backed up by José Bové, member of the anti-globalisation movement and co-leader of the European Green Party, who was scathing about the outcome of the vote. He said the evolution of genetic therapy and transgenic manipulation was moving too fast.
"This decision goes against European law. The transfer of mitochondria from a third person has crossed the line. For the first time a human being will be genetically modified, which will have an impact on all his descendants.
"Must we accept in the future human cloning because we can clone animals? Must we enter with our eyes closed in the trans-humanist future concocted by some directors at Google and other corporations? I say no. Our society must not bow to the diktats of sorcerer apprentices."
Dr Robert Meadowcroft, the chief executive for the Muscular Dystrophy Campaign, which supported the research, said: "This is an important step and while we understand some people will have reservations, this technique has moved successfully through the necessary ethical and public reviews.
"In terms of ethics this is a not a route to 'designer babies' because the mitochondrial cells do not influence the characteristics of the baby. This is not leading to a blue-eyed, fair-haired child. This is purely about healthy battery-type cells."
CC Flickr/gabi menashe