Spain's north African enclaves are targeted once again by desperate migrants
Comments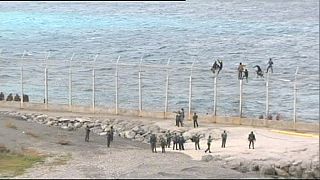 A small group of immigrants has become the latest to try and enter the Spanish enclave of Ceuta in Morocco by climbing the border fence.
The individuals clung on for about two hours before being brought down by police. Around seven other did get in via the sea.
Last week six people drowned after their boat sank just off the enclave.
Spain has two enclaves in Morocco, Ceuta and Melilla. Migrants from all over Africa regularly try to reach them either by swimming along the coast or climbing the triple walls that separate them from Morocco. Deaths and injuries are all too common.