Greece denies 'standoff' over its debt but new plans sound the alarm in Europe
Comments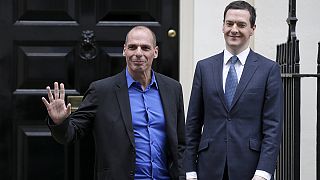 Greece's newly appointed finance minister is on a European tour seeking to reassure international investors that Athens is not in a standoff with its European partners.
But he is being faced with varying degrees of support for any renegotiation of Greece's debt burden. While the French were sympathetic, Britain's George Osborne, urged Yanis Varoufakis to act responsibly.
In a Financial Times article the Greek finance minister is quoted saying Athens will reject any further loans under the current rescue plan despite Greece's 172 bn euro bailout expiring at the end of the month.
His Prime Minister Alexis Tsipras who is on a similar diplomatic offensive claims there are options such as creating new growth-linked long term bonds thereby delaying Greek repayment.
Such ideas are sounding alarm bells in the eurozone even if the promise of relaxing austerity measures is going down well back home.
Meanwhile Athens appears to be relying on the European Central Bank to offer liquidity support – a reliance which might be misplaced.