Death toll rises amid renewed fighting in eastern Ukraine
Comments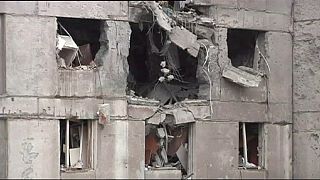 Ukrainian officials say at least 16 civilians have been killed in the past 24 hours in renewed fighting in the east of the country.
Five Ukrainian soldiers have also been killed and more than 30 others wounded.
There is no confirmation of casualty figures on the side of pro-Russian rebels.
Fighting has been intense in the town of Debaltseve, where heavy explosions could be heard on a regular basis on Tuesday.
One resident told reporters: "They are bombing us day and night."
Hopes of a new ceasefire were dashed over the weekend when new talks in Belarus between Ukraine, Russia and rebel officials broke up without agreement.
Debaltseve remains under the control of Ukrainian forces, and fighting continues in other surrounding villages and towns.
More than 5,000 people have now been killed in the conflict in Ukraine.
Russian mother of seven in Moscow accused of treason
Meanwhile, a Russian mother of seven is facing a trial for high treason in Moscow in relation to the conflict in Ukraine.
37-year-old Svetlana Davydova is accused of phoning the Ukrainian embassy to warn that Russian soldiers, in civilian clothes, may be heading to east Ukraine.
She has been released from custody after a petition from almost 20,000 supporters was presented to the Russian President Vladimir Putin.
Russia has always denied that it is supporting the rebels in Ukraine or is sending soldiers over the border.
Moscow maintains that any Russian soldiers in Ukraine are there "voluntarily", a claim slammed as ridiculous by critics.
Davydova was arrested on January 21.
The woman's family says she phoned the Ukrainian embassy after overhearing soldiers saying they were being sent to Ukraine and that they had been told to wear civilian clothing.
The mother faces up to 20 years in prison if convicted.