Civilians suffer as Ukraine rebels step up battle for Debaltseve
Comments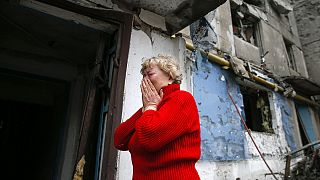 Rebel rockets were seen streaking across the eastern Ukrainian sky on Monday, as the pro-Russian separatists continued to pound the strategic town of Debaltseve.
How can I go on living, and where can I live?
Their assault was followed by incoming fire from government forces.
Once again, civilians caught in the middle have been suffering.
"How can I go on living, and where can I live?" cried Natalia outside the ruins of her apartment block, as others around her tried to salvage what they could.
Natalia's flat in Yenakiieve has been destroyed by the shelling.
Yet the city is nearly 30 kilometres from Debaltseve, the important rail hub to the northeast of Donetsk the rebels are trying to wrest from government control.
While some left the building to seek cover, others headed for the cellar.
"(This happens) all the time, from the morning on," said Lena, as she sat in the basement. "We only get up to our apartment for a short time to eat."
"Yes we leave, and they start shooting, and we come down here," her friend Oleg added.
Debaltseve lies within a rump of government-held territory bulging into the area controlled by the rebels – and to take it would be a big strategic gain for the separatists.
In rebel-held Donetsk where more destruction and casualties were reported on Monday after the weekend's fighting, one of the main rebel leaders said some 10,000 more men would be called up.
"This is to increase our army of the Donetsk and Luhansk People's Republics to 100.000," said Alexander Zakharechenko of the self-proclaimed Donetsk People's Republic.
The West insists there is incontrovertible proof the separatists are armed by Russia, backed by Russian forces – despite Moscow's persistent denials.
With diplomacy at a standstill, both sides are thought to be trying to gain maximum advantage.