Ukraine separatists to 'call up thousands' of men
Comments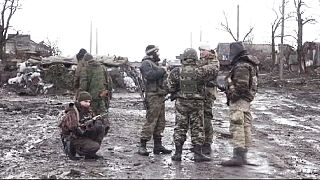 Thousands of men are to be called-up alongside pro-Russian separatists battling government forces in eastern Ukraine, according to a rebel leader.
The head of the self-proclaimed Donetsk People's Republic, Alexander Zakharchenko has been quoted as saying a "general mobilisation" would boost troop numbers to 100,000.
Pictures from Russian TV showed rebels after they had captured a village bordering the Luhansk and Donetsk regions.
At least one Ukrainian army tank was seized along with ammunition and other equipment.
The separatists have reportedly taken control of several settlements around Debaltseve as they try to capture the strategically important town.
Two hours to the north, a Soviet-era holiday resort at Svyatohirsk is accommodating hundreds of people fleeing the fighting.
"Our city has become empty. It's a ghost town, there's no power. There's nothing left, it's just a black hole. They destroyed everything, all the homes. Small children have been left without parents. What's happening is terrible. The whole world needs to know about what's happening. Terrible things are happening, terrible," said 14-year-old Nastya Mamonova, one of many from Debaltseve living in the temporary shelter.
Dozens of civilians are said to have died in the weekend's fighting.
NATO says the new offensive by the reportedly well-equipped rebels in Ukraine follows reinforcements of troops and weapons from Russia.
Moscow continues to deny such allegations, and at the weekend accused Ukrainian security forces of targeting civilians.