Ukraine's parliament argues about ceasefires as more refugees arrive from the east
Comments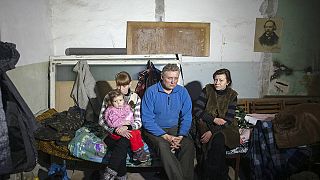 A fresh flood of thousands of refugees fleeing the fighting in eastern Ukraine has arrived in the capital, Kyiv, and elsewhere. Government shelters have been set up in a variety of places to cope with them, including sports facilities and holiday camps.
We must act. And that means helping Ukraine in a military way
"In recent days more than 2,000 people were evacuated from the cities where the fighting is going on. The Ukrainian Emergency Services say humanitarian aid like drinking water, medicine and building materials are constantly being sent to the cities of Avdiivka and Debaltseve. However, residents in the frontline cities say the aid is only delivered to safe districts, while residents in the suburbs can't get any, so they are appealing to the authorities to rescue them," says euronews' Maria Korenyuk.
Parliament sits every other week in Ukraine, and this is a sitting week so members have been faced with one dominant issue; the apparent collapse of the Minsk agreement and any possibility of a viable ceasefire.
"We must act. And that means helping Ukraine in a military way, to send peacekeepers to the border between Ukraine and Russia. And this issue has to be considered by the UN General Assembly. We also need to impose the highest level of sanctions. We must do everything, including prosecutions in the International Criminal Court," said former prime minister Yulia Tymoshenko.
Other MPs believe a ceasefire can still be revived, and must be to save lives.
"We need to hold negotiations. Only negotiations can help us to agree on a ceasefire, on the evacuation of citizens. Unfortunately, the meeting in Minsk wasn't successful, but this means that we need to increase our efforts in order to resolve this conflict peacefully," said the Opposition Bloc's Yurii Boyko, a former leading light in the disbanded pro-Russian Party of Regions once led by the fugitive ex-president Viktor Yanukovych.
Any desire to peacefully resolve this conflict appears far-fetched at the moment on either side as the fighting intensifies. And with every drop of blood spilt, that prospect recedes further.