Another Al-Jazeera journalist set to be freed from Egyptian jail
Comments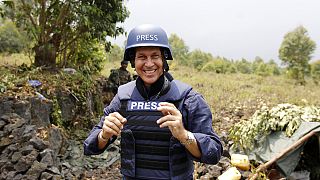 The Canadian foreign minister says the release of Egyptian-Canadian journalist Mohamed Fahmy from jail in Egypt is "imminent".
The Al Jazeera journalist has been held for 400 days.
Yesterday another Al Jazeera journalist, Australian Peter Greste, was freed.
Greste and his two colleagues – Mohamed Fahmy and Baher Mohamed – were jailed last June on charges including aiding the Muslim Brotherhood.
The three were sentenced to seven to 10 years.
A cameraman, Mohamed Fawzy, was arrested along with his colleagues but later released.
The news that Greste had been released was welcomed by his family in Australia but immediately their thoughts were with the two journalists still in prison.
"He's not going to forget his two other colleagues, there's no doubt that his excitement is tempered and restrained and will be until those guys are free. He won't give up until Baher and Mohamed Fahmy are out of there," said Peter Greste's brother Andrew.
Human rights groups and Western governments condemned the trial of the journalists and the United Nations questioned questioned Egypt's judicial independence.
A global campaign by media outlets kept the plight of the journalists in the news.
Cairo accuses Al Jazeera of being a mouthpiece for the now banned Muslim Brotherhood – which it denies – and security forces closed its offices in the Egyptian capital hours after President Mohammed Mursi was ousted.
The detention of the journalists has contributed to tensions between Egypt and Qatar which owns Al Jazeera.