Hungarians protest against PM's pro-Russian policies
Comments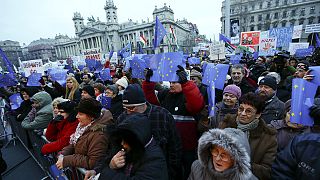 Thousands of people demonstrated outside Hungary's parliament on Sunday against Prime Minister Viktor Orban's pro-Russian polices.
The protest was held ahead of a key meeting with German Chancellor Angela Merkel in which she's expected to urge Orbán to back EU sanctions against Moscow.
The protesters are also angry over an erosion of democratic freedoms and perceived government corruption.
Our reporter talked to several of the protesters:
"I would expect from Frau Merkel to warn Viktor Orbán that he should behave in the European way although 5 hours won't be enough for that,"said one man.
"We are here for many other things, not just because of Angela Merkel's visit. I would be glad if somebody would finally say: wake up, this is not right, we are not going about things in the right way, we are not going in the direction we want to go in," said another.
Merkel's visit comes just two weeks ahead of an official visit to Hungary by Russian President Vladimir Putin, despite an agreement among EU leaders to cease holding bilateral meetings with the Russian leadership.
Sunday's demonstration was the latest in a series of mass protests against the Fidesz government since it was forced to abandon a proposed tax on internet usage in October
Although Orban's Fidesz party has lost one-third of its support in the past three months, according to opinion polls, the liberal and leftwing opposition has so far failed to capitalise on his
reversal in fortunes.
Reporter Andrea Hajagos said:
"During Angela Merkel's Monday visit she will hold talks with Viktor Orbán for around one and a half hours, yet everyone is is just guessing if the issues raised by the protesters will be part of those discussions."